---
While in Istanbul for the STEM education project, I took the opportunity to meet some of the key
figures doing groundbreaking work in areas that constitute IBE flagship programs. This time, I
discussed early childhood care and development (ECCD) with an avid supporter, Dr. Gilman Yücel.Dr. Yücel runs a state of the art dental health facility that pays special attention to children of all
backgrounds and needs. Her and her team actually manage to turn a visit to a dentist into
memorable fun, by using advanced technology for not only for clinical procedures, but to also ensure
a child-friendly dental health facility. AR, a range of apps and gadgets, dental albums, and comic book
characters are used to distract children from the anxiety and even fear of visiting her practice. Even
the clinic itself is a co-created space, with the children's art, pictures, and notes adding to its
ambience.
Dr. Yücel's motivation goes beyond dental health and aesthetics. "Do you know how many children
miss school because of severe tooth ache"? She asked. Issues with child health can deny a child
opportunities—to go to school, enjoy a good meal, play with others, or gain the confidence from a
perfect smile. Without quality care, a small decay in a child's mouth can deny them an enjoyment of
life. This is why holistic child health is not negotiable.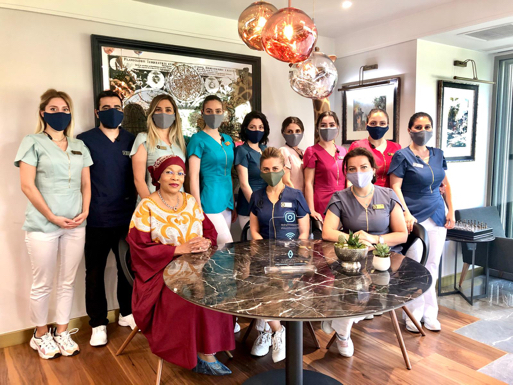 I shared with her that IBE views holistic ECCD as entailing child health, nutrition, education, and protection—legal, social, economic—and support factors like water and sanitation. She agreed, and spoke emphatically on holistic child health, noting the contribution of her specialization and expertise: Dental health. "Unfortunately, lot of children, especially in rural areas do not have access to quality and timely dental care". This need for holistic health for all children is why Dr. Yücel advocates for equity of quality health services for all children, and plans to spend her time reaching out to the most under-served areas in Turkey and other developing countries to provide dental health care to children.
To further spread her message of "Every child deserves a healthy smile,"Dr. Yücel also has a book, The Sparkles on my Teeth coming out in August, 2020 that explores the dental fear and orthodontic treatment process in childhood, and features illustrations contributed by one of her eight year old patients.
Author: Mmantsetsa Marope (PhD), the IBE Director
Source: http://www.ibe.unesco.org/en/news/%E2%80%9Cevery-child-deserves-healthy-smile%E2%80%9D-rare-take-eccd